It's 2018! That thing you said you were going to do…DO IT! But, first lets talk about Organization and how to make your dreams reality, and your goals successes. LET'S GET REAL!
The New Year comes around and this is the time when many people prepare new goals and discover new ways to improve themselves. Just like anyone else, I too started off my year with a refresh and recharge mindset. This year for me is fairly different than many of my past years do to sailing the high seas rather than working for myself on land. Since being on the the beautiful Royal Caribbean Quantum of the Seas ship I've noticed that my organization felt more like disorganization do to me not having full control over my schedule as I would if I was at home, so I decided to take a new approach. 
I am a big fan of DIY projects and challenging my mind to create for me, so I decided to finally make a goal I've talked about for so long an actual success. Planners and stationary materials are one of my greatest obsessions, so for 2018 I decided to create a bullet planner/journal to work alongside my daily planner to keep me organized. Yes, you read that right, alongside my actual planner. Don't judge I told you I have an obsession. For the next six and a half months while on Quantum I've created a bullet planner to keep my Business (I Am Bounce Productions), my daily life, my creative ideas and ways to keep positive energy in one area, something more personalized for my life as a whole versus just a general day-to-day planner.
I've had a big interest in a bullet planners for a year or so now and never took the time to make it happen, so why not create it now right? Right. I'm a big believer when your mind is in order your life is in order. So I took the time to research on Pinterest for ideas on how I wanted to design my planner and what essential parts I wanted to pinpoint, and when I say there were so many great ideas, what sounded like fun soon became overwhelming because of the amount of creative freedom I could have. There are a few things I wanted to be sure I have in my bullet planner; my bills, budget, motivation, creative corner, monthly goals and schedule. I noticed many others were a day to day creation, but because I have a day to day planner already I chose to go with a monthly creation. 
The general tools for a Bullet Planner:
A Bullet Journal 

Pen

Markers or Sharpie Pens

Colored Pencils 

Ruler
and most importantly
Now, I'm not saying that a bullet journal is your answer for organization, but I am saying an organized mind brings an organized life. If you are like me and like personalized products then I suggest checking out some of these companies: Erin Condren(my absolute favorite for LADIES and those with families), Agendio, and Personal Planner as a few examples.
As a working performer and student we are constantly on the go whether its our every day life, auditions, performances, class, workouts, etc. and let's be real, we all have forgotten about something important because there was just so much going on. So for me I have created an organizational pattern to help keep my mind and life in order. So here are a few organizational tips that I've used that I've benefited from:
Muscle Memory: I use my phone calendar as my second reminder for my schedule because of the amazing tool automatic reminders, but I take the time to write out my schedule in my day-to-day planner first to ignite my muscle memory. Like they say "out of sight, out of mind". Writing my schedule out and then putting it in my phone calendar allows me to see my schedule more than once and on the go. I have benefited from this the most. 

Color Coding: Create a legend that that you can follow with colors for specific things on your calendar. I told you already I love stationary so highlighters, markers, pens, anything with multiple colors is used in all my planners and journals. I like to pick colors that fit the feelings I have towards the event on my calendar. Examples: Red (important)- Work, Black(life)- Bills, budget, payday, Light Blue (appointments)- Hair, Doctor, Dentist, Orange (Fun/ Personal)- Date nights, girls night out, birthday events, concerts, etc. 

Monthly View: I have a monthly calendar that allows me to see my month as a whole, this helps with paying bills, organizing appointments, trips, special days, etc. to avoid over booking myself. My monthly views always allow me to be prepared for anything. 

It's Okay to say NO: Learn to say no. There will be times you can't do a performance for a friend, or you are double booked for two performances and you just can't make one happen. It's okay to let someone know that you just can't do it, don't forget even though dancers can be the best super heroes we still are human. Learning to say no allowed me to find what was worth my time and what was just taking my time. 

Mid-month Check-in: Take the time in the middle of the month to look and see what you successfully completed and what did and didn't work to prepare for the end of the month and what's left to come. I love my mid-month check in's because it shows me to see things as a whole. Sometimes I get overwhelmed when i don't know what's going on, so this tool has been one of my greatest discoveries for my organizational pattern. 

Accountability Partner: Find someone who is like minded and who wants to see you succeed as much as you want to see them succeed. Check in every so often and tell each other your goals, what you have coming up, your ideas, etc. As much as this doesn't seem important it really is. My accountability partners work in different parts of my life whether its personal, dance, or my creative space. I try to talk to them bi-weekly and just check-in and gets thoughts out of my head and hear others perspectives.  

Make time for YOU: There's nothing like quality personal time. It's so easy to become overwhelmed with everything around you that you forget to take care of you. Schedule time for you once a week. Whether that's going to get your hair cute/done, nails done, get a massage, go sit at the park, go to a movie, etc. Make time for YOU! I love my quality time with myself. I like to kick back, pour a glass of wine, listen to music or watch a movie and just reflect. 

Prepare for what's to come: Take time at the end of the month to prepare for the month to come. You never want to start the month feeling like you weren't ready. The more you help yourself, the easier your life will be. I take the last week of the month to prepare for the month ahead regardless of how little or much I may already know. Having a blueprint is better than having an empty page. 
Now, these are just a few pointers on things that have helped me. Hopefully, you will find an organizational pattern that suits your needs.With that being said, I have a challenge for YOU…
CHALLENGE: Take a month to really find your organizational pattern and utilize it!
if you are down for the challenge email me hello@iambounce.net with the subject title "CHALLENGE ACCEPTED" and tell me what you are going to do this month for your organizational pattern and when you are starting. Send me pictures of some examples and your progress. If you need help or some examples from me let me know in the email so I can do my research. At the end of the month I WILL BE YOUR ACCOUNTABILITY PARTNER and check in to see how successful your challenge was and what successes and failures you came across. 
Until next time… KEEP IT REAL! 
Bounce xx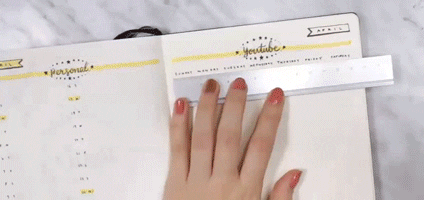 Please reload